6.  An 'Extraordinary Engagement': A Russian Opera Company in Victorian Britain
Tamsin Alexander
Exactly a year ago this weekend, the press was full of encomiums for the Kirov Opera. It was hailed as 'the best opera company in the world' in all quarters after its visit to Covent Garden, when it brought a programme consisting entirely of Russian works […] This time, though, reactions to its two-week Verdi celebration at the Royal Opera House have been very different […] When we have heard them before here, […] it has almost invariably been in Russian opera. There was something revelatory about many of those productions—the real sense of witnessing a performing tradition that was beyond our normal experience (Andrew Clements, The Guardian, 21 July 2001).
[…] if the Russian singers will keep to Russian music, they deserve and may meet with every encouragement (The Times, 9 October 1888).
[…] as we listen, we are sensible of being transported to a far greater extent than we had anticipated into a world of art of which we have little experience (Manchester Guardian, 4 July 1888).
While the story of Sergei Diagilev's touring saisons russes of the early 20th century is well known, that of the first visit of a Russian opera company to Britain has not yet been told. In 1888, a Russian troupe1 performed in cities across the country, exhibiting a wealth of vocal talent and performing three Russian grand operas that depicted the country's historical triumphs and colonial acquisitions. At a time when still little was known of Russian opera (see Appendix A), when Britain was insecure about its lack of home-grown opera and singers and when the countries were colonial rivals, the press presented the tour as a spectacular exhibition, thus encouraging ethnographic engagement with the operas, despite the more serious aims of the company. This generated an image that, though sensational, was not conducive to the future endorsement of the repertoire in Britain.
In June 1886, Giuseppe Truffi, a conductor of the Imperial Theatre in Moscow, began seeking venues for an opera tour. His search excited much interest in British music periodicals. Rumours appeared that his troupe would soon be visiting such fashionable destinations as Paris, New York, Vienna and Milan. However, when the company eventually departed in April 1888, it would be for a very different set of cities. Having visited Berlin and Copenhagen, they arrived in Britain in July ready to perform in Manchester, Birmingham, Huddersfield, Liverpool, Nottingham and Cardiff (see Appendix B). Their repertoire was made up of operas that were popular in Russia at that time: Glinka's A Life for the Tsar, Rubinstein's Demon, Tchaikovsky's Mazeppa and Verdi's La Traviata and Rigoletto. Despite performing out of season,2 from July to September, the press in most cities recorded a resounding success; the company was even asked to return to Manchester and Birmingham for repeat performances.
In October, the company travelled to London for a series of concerts in the Royal Albert Hall. The venture was a failure and critics unanimously urged the company to give a performance of a complete opera instead. Having been rejected by Covent Garden, despite the theatre being empty, they eventually managed to secure the Jodrell Theatre. The theatre, known previously as 'The Novelty', had been closed for a year and was described by one critic as 'a kind of extra theatre to be hired for charitable entertainments and amateur performances'.3 Its low profile, meagre size and limited resources did not help the company's cause. Poor reviews and suspicions of corrupt management followed and the season was abandoned early. None of the operas performed in the tour would be seen in Britain for another century.4
Sensation and Spectacle: 'Nobody should miss this rare opportunity of seeing this marvellous company in works which are of a peculiarly fascinating nature'.5
Interviews, illustrations, gossip and advertisements published in papers during the tour, particularly in the provinces, promoted a highly sensationalised image of the Russian troupe that was at times more akin to a visiting circus than a serious opera company. In 1887, Francis Hueffer of The Times wrote despairingly that 'English people like serious music and like the stage, but they do not care for serious music on the stage'.6 During the 1880s, many of the leading music critics were calling for reforms in British musical life in a movement that came to be dubbed the 'English Musical Renaissance'.7 In opera, it was hoped that the Italian-dominated repertoire would be revitalised with new works, particularly by British composers, and that the public could be encouraged to appreciate 'serious' opera. In spite of this, music halls, vaudevilles, burlesques, pantomimes and operettas remained the most popular forms of musical theatre. This can be seen in the types of entertainment advertised at the time of the Russian company's visit. At the Birmingham Grand Theatre, for instance, they were followed by a burlesque of Aladdin. Andrew Melville, the theatre manager who accommodated the troupe, went on to assist an American circus at the Queen's Theatre. In Liverpool, competition came in the form of a 'Red Hungarian Band' which performed at the Bijou Theatre in the same week.
However, touring opera had gained a popular following in the provinces. Cities outside London did not have their own opera companies and so relied on such tours. Tickets were sold at relatively low prices, making performances more widely accessible, in contrast to the more elite scene still found in London. 8 When the Russian company arrived in Birmingham, people flocked to the train station to welcome them and Ioakim Tartakov, the lead baritone, was presented with a laurel crown after the first performance of Demon there.
This excitement over visiting companies, combined with a taste for sensationalist entertainment, heavily shaped the style of advertising used for the company's visit, as shown below:
The promise of 'original Russian, Circassian, and Tartar costumes, scenery, properties and effects', before even mentioning the title of the opera, shows that exotic visual effect was a principal point of appeal. The subtitle—'an extraordinary engagement'—and the idea that the singers had for 'the first time on record' been 'allowed to leave their own country' evoked an air of intrigue, the latter tapping into age-old stereotypes about Russian despotic leadership; in fact, the company had been gathered especially for the tour. The huge numbers of performers projected, again appealing to the public taste for the spectacular, were also inaccurate. There was no band with the company at all and certainly not 120 singers.9 As these performances were held at the more prestigious theatres of each town, advertising always took a prominent place in theatrical listings. The contrast in London could not have been greater. The Jodrell Theatre's announcement appeared at the bottom of the listings and gave scant information in comparison with the provincial notices; there is no mention that Demon was an opera, let alone that the performances were by a Russian company. These advertisements alone indicate how differently the company were received in and outside of London.

A further aspect of the press response which shows the interest the tour excited was the number of scandals reported surrounding the company during the tour—a feature which was becoming typical of the late-Victorian press.10 Rumours surfaced of financial problems resulting from a previous director abandoning them in Berlin, and of an impending court case between a chorus member and Vladimir Liubimov, a baritone and organiser of the tour, over unpaid wages of £10.11 The most widespread story, however, was of the company's early dismissal from the Jodrell Theatre, which left them unable to finance their journey home and stranded in London for 3 weeks. This led to a court case between William Ralston, an eminent Russian scholar of the time who intervened on the company's behalf, and George Saville, the theatre administrator. Ralston attended multiple performances of Demon at the Jodrell and suspected that Saville had not been passing on the correct takings to the proprietor. Their original confrontation on the matter, in the theatre foyer, had led to an assault by Ralston on Saville, over which another court case was also being held. This, and Ralston's arrest a week later for drunken and disorderly behaviour following an unsuccessful benefit concert (that he had organised for the company), largely discredited his attempts to help. Court cases were still being held over owed wages even after the company had managed to travel home through funds raised by the National Vigilance Association and a campaign in The Star.12 As well as numerous police reports, emotive headlines such as 'The Starving Russian Artistes' appeared in papers nationwide; sad tales emerged of the company's living conditions and fears for the safety of the women were frequently voiced. To make matters worse, their stay happened to coincide with the infamous Whitechapel murders. The letters printed in a range of papers shows that the story gripped the nation. The following is typical for its expression of sympathy coupled with an assertion of British superiority:
Well, as we have, many of us, in speech and song, so often expressed our determination to do something dreadful to Russia and the Russians,13 here is a glorious opportunity. Let us conspire to send these, our supposed national and natural enemies, back to their own country with a lively and grateful sense of how Britons can treat a foeman in distress, and perhaps, though in a very small way, it may tend to foster that 'union of hearts' which we should like to see binding together all the nations of the world in a common band of brotherly love.14
Thus, at a time when sensation sold, the lasting image of the company would be of their failure and criticisms of the Russian government's inefficiency in helping them, rather than the artistic achievements of the enterprise.
Further evidence of the troupe's sensationalist appeal can be found in the images and articles printed during their visit. The Birmingham Dart printed sketches from Demon with suitably wistful, melancholic images of the soprano and baritone below, once again tapping into popular stereotypes of Russian national character held at the time. The Cardiff Evening Express published short biographies and portraits of some of the soloists, in which the ladies were invariably described as 'beauties'.15 The author further endeared his readers to the singers by writing that 'of strong individuality and palpable brain power, even in the matter of religion [the tenor, Bogatyrev] thought for himself to leave the orthodoxy in which he had been trained by his parents'.16 This statement qualified the tenor's success by removing one of the primary sources of difference and disapproval between Britain and Russia. The article also hinted at the widespread view that Russia was a suppressed and underdeveloped nation. For instance, some of the singers' biographies reported that they heroically supported their impoverished families through their singing, and the conductor, Truffi, was presented in this article and others as a tyrannical leader rehearsing his tired company into the night to ensure perfection.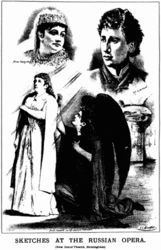 Despite this sensationalised presentation, the opera company's repertoire shows a serious attempt to demonstrate that Russian performers and composers were on a par with those in Western Europe, as well as to present operas with the potential to become internationally popular.17Demon and A Life for the Tsar, which received the most performances on the tour, were the most popular operas in Russia at that time. The chosen repertoire also communicated that Russia was a large and united European power. Mazeppa tells the story of a Ukrainian rebel defeated by Peter the Great and A Life for the Tsar depicts the rescue of the first Romanov tsar from a Polish attack. The story of Demon, with its portrayal of the beautiful, conquerable Georgian princess Tamara, sold by her father and seduced by the Demon, gives a colonialist depiction of the recently acquired Caucasus.18 Rubinstein's setting, through its employment of emasculating oriental colouring for background effect and for the impotent Caucasian hero, Prince Sinodal, enforces this. These locations—Ukraine, the Caucasus and Poland—were three of the four regions visited by Alexander III in his first (and only) official extensive tour of the Russian Empire, undertaken in 1888, to enforce his policy of Russification.19 In addition, the singers of the company had been brought together from across the Empire, including Kiev, Brest and Kazan, exhibiting the wide reach of the country's talents. Thus, Russia presented itself through the tour as an empire-builder equal to Britain, via an operatic tradition that exceeded its colonial rival.
Ethnographic Insight: 'It is an instructive form of entertainment'.20 Despite these serious aims, music critics were more interested in the potential for the performances to unveil the secrets of the mysterious Empire. This was not the first visit of a Russian musical troupe to Britain. A Russian horn band had visited in 1831 and a Russian choir, under Slavianskii d'Agrenev, in 1886. Both had performed popular, folk and sacred music from Russia in quasi-national dress, thus giving the ventures a distinctly ethnographic feel. Continual assurances by critics in 1888 that the 'costumes were all true to the country and period',21 that the singers' vocal production was 'entirely united to the weird effects of their native music'22 and that these were true 'specimens' of Russian national operas suggest that the Russian opera company's performances were expected to serve a similar purpose. The term 'specimen' was used frequently by critics as if describing a museum exhibit, thus transforming the audience into tourists observing foreign culture.
This expectation of encountering a foreign novelty led to bewilderment over the company's performances of Rigoletto and La Traviata. Hueffer wrote for the Times that 'if the Russian singers will keep to Russian music, they deserve and may meet with every encouragement. If they should rashly venture on Rigoletto or La Traviata the result will probably be the reverse of agreeable'.23 The patronising promise of 'encouragement', characterisation as 'rash' and menacing litotes ('the reverse of agreeable') gives this the tone of a warning to a young child, asserting British superiority and stressing the importance of restricting Russian musicians to Russian music. However, the company's performances of these operas showed that they were far from being on the peripheries of performance practice. For instance, they staged La Traviata in evening-dress, a recent Parisian venture in keeping with Verdi's original intentions, which had only just been attempted in Britain.24
Some critics even took the Russian operas performed to be representative of contemporary Russian life. This reaction to Russian culture in Britain was already common. For instance, Lermontov's A Hero of Our Time had been taken for a travelogue and published as Sketches of Russian Life in the Caucasus (1853)25 and the 1881 translation of Dostoevskii's House of the Dead, depicting prison-life in Siberia, had been widely enjoyed for its documentary value.26 A South Kensington Exhibition of Russian Art and Art Objects in 1884 presented ornaments, vases, plates, scabbards, armour and sacred objects, rather than paintings, further encouraging a museum-style reception of Russian culture. In 1888, critics saw A Life for the Tsar in particular as representative of contemporary Russian life, despite being set almost 300 years in the past and the plot being largely fictional. One reviewer described it as an opera 'than which perhaps nothing is a more faithful representation of Russian patriotic life' and that would give 'insight into the inner life of the 'mysterious empire'.27
As supposedly representative of national practices, a primary motive of reviews was to seek out moments of 'national' music.28 Carl Engel's popular Literature of National Music (1879) defined this as designating 'any music which, being completed in the peculiar taste of the nation to which it appertains, appeals more powerfully than other music to the feelings of that nation'.29 Engel continued that it was important to study this music, since it 'reveals the character and temperament of different races'. Thus, by reading the operas performed by the Russian company as 'national', critics immediately indicated that they could only be truly enjoyed, performed and understood by others from Russia. Engel's definitions also exemplify the common belief at this time that nationality, personality and musical style were all inextricably linked, which meant that listening to the music of other nations could provide information about national character. In a comparison of the Russian company's performance of Demon with that of the Royal Italian Opera in 1881, The Times reported that 'it is in the rendering of […] couleur locale that the Russian artists have a marked advantage over their predecessors at Covent Garden'.30 This treats moments of 'couleur locale' as glimpses into Russian folk practice, despite Rubinstein mostly employing oriental colour, as exotic to Russian audiences as it was to British ones.
Some critics' focus on national melody also weakened the operas' value by associating them with popular entertainment. The critic for the Manchester Guardian described Demon as being imbued with 'local colour which so easily appeals to the popular mind',31 while the Birmingham Daily Post wrote of Life for the Tsar that 'native melodies […] are never without a freshness and charm which speak touchingly to every ear'.32 Examples such as these, in locations where the company were most enthusiastically received, written in the cities' most august newspapers, undermined their success by implying that the operas were only popular because of their accessible musical language. Effeminate terms such as 'charming', 'pretty', 'delicate' and 'quaint' abounded in reviews,33 further indicating surface beauty. In the Academy's description of Demon, the employment of local colour was presented as an artificial, unsophisticated practice: 'Rubinstein gives local colour by means of augmented intervals and quaint harmonies and peculiar rhythms. Thus interest was imparted to many portions of the work'.34 These simple sentences and use of a list sound more like a recipe than a method of composition. Therefore, the term 'national' was dissociated from the serious national opera ideal which the English Musical Renaissance called for and ensured that the Russian operatic tradition was not seen as an example to British composers.
A Learner: '[Russia] is young, so far as civilisation goes'35
A fundamental problem that shaped the response to the Russian opera company was the persisting idea that Russia was culturally and politically a youthful nation that was still in the process of learning from its westerly neighbours. This image was applied to all aspects of the visit, including the singers' voices, the sets and their administrative procedures. However, it was the idea that the composers of the operas performed were simply imitators that would make long-term critical success unlikely. The idea that 'great' composers were defined by their originality and innate genius was deeply ingrained in music criticism by this period.36 Focus on imitation refuted both of these important credentials. Of Rubinstein, for instance, the Liverpool Mercury reported that 'like other composers of the Slav race, he betrays here and there […] some token of submission to German influences'.37 Tchaikovsky's Mazeppa was criticised for being a poor imitation of Wagnerian writing, while Rubinstein's conservatism in Demon was deemed backward. One critic reviewing A Life for the Tsar wrote that its most 'musical' part was the 'fugal number' in Act I, since it reached 'almost a Handelian vein in breadth and development'.38 This, the critic continued, could be attributed to Glinka's German training. Thus, not only was Glinka's musicality merely learnt, but, like Tchaikovsky's Wagnerisms, it was not quite fulfilled, his music only 'almost' reaching Handelian levels.
This image of Russia as a 'learner'39 is conveyed especially by the following extract from a review which compares Demon with Gounod's Faust:
As compared with Goethe's devil […] [the demon] is a mere abstraction […] [Tamara is] a tender and loving woman of Russian nationality, but with no pretensions to figure side by side in the same portrait gallery as Goethe's Gretchen. […] [Demon] may be described as very charming and very uncommon, but without the fibre or real dramatic quality of Gounod's work. […] In Rubinstein the fluency [of melody] is sometimes so obvious as to give his music the character of an improvisation, and the composer apparently has not known how to exercise the reserve and polish and severe self-discipline which have made so many of Gounod's airs enduring gems of melody. Both composers possess strong dramatic instincts, but those of the Russian are not so carefully penned and directed as those of the French musician.40
The description of the Demon as 'a mere abstraction' and Tamara's exclusion from the 'portrait gallery', a symbol of public endorsement and permanent acknowledgment, indicate a lack of faith in their enduring power. The iteration of Tamara's 'Russian nationality' in this statement, paired with the idea that she has 'no pretensions' to hang next to Gretchen, also suggests her provinciality. By calling these 'Goethe's' characters, not Gounod's, the author reminds his reader that Faust is part of a broader European tradition—a French opera based on a German plot—thus creating a division between Russia and its westerly neighbours. To enforce this divide, the contrast between the two composers is portrayed as a binarism of controlled learning and a lack thereof. Rubinstein's 'charming' and 'uncommon' music is juxtaposed with Gounod's 'fibre and real dramatic quality'. 'Charming' and 'uncommon' denote something Other, mysterious, even magical. 'Fibre' and 'real', by contrast, suggest music of substance and sincerity. Next, Rubinstein's 'obvious' and 'improvisatory' melodies are placed in opposition to Gounod's 'reserve', 'polish' and 'severe self-discipline' which enable him to create 'enduring gems of melody'. This links Rubinstein's melodies to a popular and oral tradition, while Gounod's 'gems' become part of a written-down, educated tradition. This idea is enforced by the following sentence which tells us that Gounod's drama is 'carefully penned'. Thus, the imagery assigned to Faust—the gems, the portrait gallery—indicate wealth, beauty, power and endurance. Demon, however, is defined and analysed via a series of negatives: an 'abstraction […] no pretension […] without […] not known […] not so'. Its identity is shaped by what it is not in comparison to the Franco-German Faust.
In conclusion, the critics' reluctance to accept Russian opera into the canon paralleled and was influenced by the reluctance of Britain to accept Russia as an enlightened world power at the time. The 1880s were a period of uneasy Anglo-Russian relations; the Russo-Turkish war (1877-8) had recently seen Russia threaten British naval supremacy in the Mediterranean and the Penjdeh crisis of 1885 had brought the countries to the brink of war over Russia's expansion into Afghanistan. The colonial rhetoric that presented these performances as exotic, ethnographically interesting and lagging behind the Western world thus undermined Russia's position as a rival to Britain. It also detracted from the idea that Russia may be in possession of a flourishing and internationally competitive operatic tradition at a time when Britain was struggling to find one of its own. The discussion of the company being ethnically attached to music written by their countrymen, and thus best-suited to performing it, created a barrier that damaged prospects of repeat performances. However, the success in the provinces, albeit prompted by sensationalised media attention and the lack of other entertainment in the summer months, shows that the public were willing to support these operas. Reviewers often commented that people attended the same opera night after night, indicating that novelty was not the only source of appeal. But, without the provinces having their own opera companies, and following the damning response in London, little more could come of this. Excluded from the portrait gallery, Russian opera was confined instead to the museum or the international Exhibition, to be given a display case as spectacular as any, but not to be touched, to be labelled 'Russian' and to be learned about, certainly not from.
Appendix A: Table showing all performances of Russian Opera in Britain, 1881-92
| Date | Opera | Language | Company, Venue, People |
| --- | --- | --- | --- |
| 21, 25, 30 June, 15 July 1881 | Demon Rubinstein | Italian | Royal Italian Opera, Covent GardenDirector Frederick GyeConductor Anton Rubinstein, Enrico Bevignani |
| 12, 16 July 1887 | A Life for the Tsar Glinka | Italian | Royal Italian Opera, Covent GardenDirector Antonio LagoConductor Enrico Bevignani |
| 2 July-4 November 1888* | A Life for the Tsar Demon Mazeppa Tchaikovsky | Russian | Director Vladimir Liubimov, Aleksandr AleksandrovAdministrator BogatyrevConductor Giuseppe Truffi |
| 17, 20, 21, 24, 26, 28, 31 October 1892 | Eugene Onegin Tchaikovsky | English | Royal Italian Opera, Olympic TheatreDirector Antonio LagoConductor Henry Wood |
* See Appendix B for further details.
Appendix B: Timeline of the tour.
  Venue
Date (1888)
Opera
Berlin, Victoria
Theatre
6-18 May
Life for the Tsar (x8)
Demon (x5)
Copenhagen,
Folketheatret
2-19 June
Life for the Tsar (x3)
Demon (x8)
Rusalka (x2)
Rigoletto (Act III)
Tartakov Miscellany
Manchester, Comedy
Theatre
2*-21 July
Demon (x12)
Life for the Tsar (x6)
Birmingham, Grand
Theatre
23-28 July
Demon (x5)
Life for the Tsar (x2)
Huddersfield, Theatre
Royal
30 July-3 August
Demon (x3)
Life for the Tsar (x2)
Liverpool, Alexandra
Theatre
6-18 August
Demon (x5)
Life for the Tsar (x3)
Rigoletto (x2)
Mazeppa (x2)
Manchester, Comedy
Theatre
20 August-
1 September
Demon (x4)
Rigoletto (x3)
Mazeppa (x5)
Birmingham, Grand
Theatre
3-15 September
Demon (x6)
Rigoletto (x4)
Mazeppa (x2)
Lubimov Benefit
Nottingham, Grand
Theatre
17-22 September
Demon (x4)
Rigoletto (x2)
Cardiff, Grand
Theatre
24 Sep-6 October
Demon (x6)
Rigoletto (x 4)
Life for the Tsar (x2)
La Traviata (x2)
London, Royal Albert
Hall
8-13 October
Variety concerts
London, Jodrell
Theatre
22 Oct-4 November
Demon (x14)
(every night + Saturday
matinees)
*    All visits in British cities began on a Monday and included performances every night except Sunday, sometimes with Saturday matinees.
Footnotes
  1   The company will be referred to simply as the Russian opera company throughout, since such a variety of names appeared in papers, e.g. Grand Russian Opera Company, the Russian National Opera Company, the Moscow Opera Company, the Imperial Opera Company, that it seems they did not advertise themselves with a specific title.
  2   The main musical season, based on that in London founded on the tradition of high society coming to town for the opening of parliament, lasted from April to July.
  3   The Belfast News Letter, 15 October 1888. (All newspaper reviews were anonymous. Possible authors' names are given in parentheses. These names are those of the main music critic of the paper for that time.)
  4   Next would be Mazeppa at the English National Opera, 1984, though extracts and unstaged versions of Demon and Life for the Tsar have been performed since 1888.
  5   Dart: The Midland Figaro, 27 July 1888.
  6   Francis Hueffer, Half a Century of Music in England, 1837-87 (Cambridge, 2009), pp. 79-80.
  7   See Leanne Langley, 'The Musical Press in Nineteenth-century England', Notes, XLVI, no. 3 (March, 1990).
  8   Dave Russell, Popular Music in England: 1840-1914 (Manchester, 1997), p. 69.
  9   Advertisements requesting players for these performances in each town show that bands were collected there and then, and did not arrive with the opera company. As for the '120 singers', according to the police report sent to the London (e.g. Lloyd's Weekly Newspaper (11 November 1888)), there were 36 members of the company stranded in London in November.
10   See Michael Diamond, Victorian Sensation: Or the Spectacular, the Shocking and the Scandalous in Nineteenth-Century Britain (London, 2003).
11   Birmingham Daily Post (11 September 1888) (Stephen Stratton).
12   Yet another court case over the company's visit was held between the theatrical agent, Macheon, and the Jodrell, though his grievances were really against the Russian Opera Company, who he claimed owed him £142 in unpaid commission fees.
13   See Russell, pp. 146-8 for examples of such songs.
14   Morning Post (13 November 1888) (W.A. Barrett).
15   Evening Express, Cardiff (4 October 1888).
16   Ibid.
17   See Daniel Fisher, 'Russia and the Crystal Palace in 1851', in Jeffrey Auerbach and Peter Hoffenberg (eds.), Britain, the Empire, and the World at the Great Exhibition of 1851 (Aldershot, 2008) for another example of a failed attempt by Russia to introduce Britain to a more accurate picture of the country.
18   Susan Layton, Russian Literature and Empire (Cambridge, 1994), pp. 201-9.
19   See Richard Wortman, Scenarios of Power: Myth and Ceremony in Russian Monarchy from Peter the Great to the Abdication of Nicholas II (Princeton, 2000), p. 282.
20   Aberdeen Weekly Journal (11 October 1888).
21   Manchester Guardian, 11 July 1888 (George Freemantle).
22   Liverpool Daily Post, 15 August 1888.
23   The Times, 23 October 1888 (Francis Hueffer).
24   The first British staging of La Traviata in modern dress was in June 1888 under Augustus Harris at Covent Garden (See 'Inartistic Opera', Musical Times, June, 1888, p. 341).
25   Philip Bullock, Rosa Newmarch and Russian Music in Late Nineteenth and Early Twentieth-century England (Aldershot, 2009), p. 21.
26   Helen Muchnic, 'Dostoevsky's English Reputation (1881-1936)', in William Leatherbarrow (ed.), Dostoevskii and Britain (Oxford, 1995), p. 24.
27   Western Mail, Cardiff (2 October 1888).
28   Just a few examples from many: '[In Demon] the imitations of Russian national tunes are excellent' (Weekly Dispatch (28 October 1888)); '[Life for the Tsar is] strongly impregnated with local colour' (Birmingham Daily Post (26 July 1888)).
29   Carl Engel, Literature of National Music (London, 1879), p. 1.
30   The Times, 23 October 1888 (Francis Hueffer).
31   Manchester Guardian, 4 July 1888 (George Freemantle).
32   Birmingham Daily Post, 27 July 1888 (Stephen Stratton).
33   A few examples from many: 'freshness and charm […] touching' (Birmingham Daily Mail, 27 July 1888); 'The chorus of male voices sang with great delicacy and charm in the pretty and characteristic evensong' (Academy, 27 October 1888, p. 280); 'A charm which cannot be verbally described' (Manchester Guardian, 4 July 1888).
34   The Academy, 27 October 1888, p. 280.
35   '[Russia] is young, so far as civilisation goes, and as it possesses a distinct nationality in feeling, it is only natural to find this feature reflected in the music that its subjects put forth. Most of this is marked by what may be called the vigour of youth, mingled with accents, unusual rhythms, quaint turns of melody and novel harmony, such as is not current in the more southerly nations' (T.L. Southgate, The Musical Standard (31 March 1888), p. 196).
36   Bennett Zon, Music and Metaphor in Nineteenth-Century British Musicology (Aldershot, 2000), p. 184.
37   Liverpool Mercury, 7 August 1888.
38   Liverpool Daily Post, 10 August 1888.
39   This term is taken from Iver Neumann, Uses of the Other (Manchester, 1999), pp. 108-12.
40   Birmingham Daily Post, 24 July 1888 (S.S. Stratton).