16. Jean le Rond d'Alembert (1717-1783), On the Suppression of the Jesuits, 176526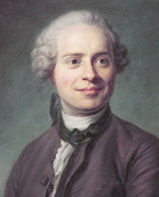 The Society of Jesus27 was one of the most important religious orders in France. For all its power, it was not short of enemies, and foremost amongst these were the Jansenists.28 The order's fortunes changed in 1764 when it was outlawed in France by King Louis XV. In a sardonic pamphlet published in 1765, the philosophe d'Alembert plays Jesuits and Jansenists off against each other.29
It is not only France whose honour would be served by seeing an end to these idle disputes, but even more so the honour of religion, by virtue of the obstacles which such quarrels place in the way of the conversion of non-believers. I picture one of those men who have made the common mistake nowadays of attacking religion in their writings, and against whom both Jesuits and Jansenists alike have taken up cudgels. He is addressing the staunchest theologian from each side, and making this speech to them both:
'Good sirs', you are right to cry foul against me, and it is my intention to make amends. Therefore, spell out a profession of faith for me to swear, that I may be reconciled first with God, then with each of you as well'.
Inevitably, from the very first article of the Creed, 'I believe in God, the Father Almighty', he will have his two catechists at loggerheads on the question of whether God's might extends in equal measure over body and soul.
'Of course', avers the Jansenist.
'Not entirely, no', mutters the Jesuit under his breath.
'You blasphemer!' exclaims the one.
'And you', retorts the second, 'you destroyer of freedom and of the merit of good works!'
Then turning to their prospective convert, together they address him thus:
'Ah sir, it is better not to believe at all than to follow the abominable theology of my opponent. Beware of putting your soul in the wrong hands. For as is written in the Gospel: if the blind lead the blind, both shall fall into the ditch'.
It must be said, the blind non-believer is bound to feel a little uncomfortable caught between two men each offering to serve as his guide, while accusing one another of being even more blind than he.
'Good sirs', he will doubtless say, 'I thank you both for your charitable offers. But to lead me through the darkness, God has given me the staff of Reason, which, as you say, will surely set me on the path to faith. Well, I shall make use of this worthy staff; I will go straight where it leads me, and I hope it will prove more useful than the two of you have'.
---